Have you wondered how to identify bad SEO and/or bad website design — BEFORE you hire someone?
Usually, SEO and design ideas for a website should make sense for VISITORS first. When they don't, you likely have a problem.
A site I recently worked on revealed 12 POINTS of what NOT to do in SEO and website design . . .
1. Are you Hiding your Content from Visitors?
I clicked "sitemap." What appeared was a curious list of some 32 articles. Articles? Were these pages on the site?  Well, they weren't pages accessible from the Main Menu or sub-menus.  In fact, the only way you could get to these pages was by clicking "sitemap".  The articles did have great titles: "What you should know before buying (the product) .  . .", etc. Why weren't these articles in the blog — or in the product sections?  Why were they hidden?
2. Are you Writing Content ONLY for SEO Purposes?
I asked about the articles on the sitemap page. Here was the answer:
"They're just there for SEO. We never intended for anyone to read them."
What a waste of time.  And what a waste of potentially good content that might actually educate your audience.  (If your SEO company wants to "hide" any content anywhere, run quickly in the other direction!)
3. Does Your Website Feature Useless, Badly-Written Content?
A click on the first article on the sitemap page revealed why those articles are "hidden" from visitors:
The articles were very generic — and a whole page of content never really told the reader anything useful.
The articles were written in poor English, with some sentences not making any sense at all.
In many articles, the first paragraph was repeated again as the third paragraph — like the writer was being paid by the word.
I pointed these issues out to the owner. He said, "The web guys are from (an Eastern European country).  The articles were probably written there."
Good copy effectively sells.  Good copy is best written by a skilled copywriter. Copy for an English website is best written by English-speaking copywriters.
Trying to save money by having your content generated by lower-paid workers in other countries may not be worth anything in the long run.  Ranking on Google is all about high-quality content.  Be sure that's what your website delivers.
4. Is Your Navigation Designed for Search-Bots Rather Than Visitors?
As I was reviewing the navigation and product categories, I noticed some product categories in a sub-menu — and then I couldn't find them again.  So I started to make a list of logical categories that VISITORS might expect to see.  I realized the current navigation took the 5 main types of products and:
Lumped 2 of them into 1 generic category — and then had no sub-category pages or content focusing on each category individually.
Hid 2 categories, so they only appeared in an on-page sub-menu — but only on certain pages.  Huh?
So I proposed a new product menu of the 5 main product categories. The owner said, "That's exactly how I would have organized it."  Why was it organized the current way?
Seems the web guys (who offer "SEO services" as part of their monthly fee) wanted to focus on certain terms in the navigation for SEO reasons — even though that didn't make the navigation logical from the VISITOR's point of view.
5. Is Your Content Created for Visitors in Various Buying Stages — or Only for BUYERS?
It's a site that needs to drive traffic to 4 retail locations. I understand the need to reach those ready to buy. I also understand that providing information to the other 98% who are in early buying stages can be highly effective.  Because if your website doesn't appeal to those not quite ready to buy, they may be educated — and eventually sold — on another website.
The "blog" features "posts" that each feature a specific product name and model number in the headline.  Each post is basically a sales pitch for that product. Why did they choose that direction — rather than creating content that might be helpful to prospects?
"We wanted to rank highly for the specific product to reach those ready to buy."
If you're going to create content, create it for your audience.  Make it useful for your audience.  NEVER WRITE ONLY FOR GOOGLE.
6. Is Your Content and SEO Focused on Keywords with Little to No Search Volume?
Some keyword research revealed that nationwide monthly search volume for many of the specific product names and model numbers featured on the blog was zero.
In other words, all of the blog posts "developed for SEO ranking purposes" weren't helping SEO at all — because they were focused around keyword phrases that no one was searching for.
Before you agree to an SEO plan for your website, ALWAYS ask to see the Keyword plan per page — and be sure it includes estimated monthly search volume for each keyword.  If a keyword has no search volume, it's not a keyword you want to build content around.
There are still companies "guaranteeing to put you in the number 1 position on Google." They will optimize your page for a search term that no one is searching for. So you can be #1 for "vodka bottles dressed in clothes" — but there may be no one searching for that.
7. Are you Ignoring the SEO Power of Social Media 
We started to develop new, educational blog posts written by the company's highly visible President.  And the President had a lot of contacts on LinkedIn.   So I suggested that the blog posts be mentioned in LinkedIn posts from the President's LinkedIn account.   When the web company heard about this idea, they were concerned:
"We don't think that's a good idea, since the blog posts are just product ads . . ."  
(The web company was referring to the way they had written prior blog posts.)
Be sure you understand what type of content a website company is going to develop for your site — and why.  If this client had discussed blog strategy with the website company BEFORE implementing it, the client might have recognized that the overall plan just didn't make any sense.
8. Is Your SEO/Web Company Creating Low-Quality In-Coming Links to Your Website? 
On this website, 56% of the in-coming links were from ONE website, owned by the website developer.  That particular website features very low-quality "articles" about a huge variety of products.  There is no focus to the website, and none of the "articles" really tell the reader anything.  This is a classic example of low-quality content on a low-quality website.  Don't do it.
9. Did Your Web Developer Take Content from Other Websites for Your Site?
No original product content:  The website sells products from manufacturers. Unfortunately, it uses the manufacturers' product descriptions for each product — the same product descriptions found on perhaps thousands of other websites.  To have maximum SEO value, your content should be unique to your website.
10. Are your Category pages really not Focused on the Category?
Category pages versus individual product pages:   When you choose a category to click on, you reach a category page — that has no copy about the CATEGORY.
Especially in this industry, the category pages need content to introduce the category — like what to look for, how to compare and choose the best product for you, etc.  The way they're used on this website, the Category pages don't do a very good job for visitors — and they're not focused on a particular keyword for SEO.
Typically, when a particular tactic isn't very effective for visitors, it's also not very effective for SEO.
11. Does Your Website Contain Duplicate Content?  
Those category pages have product photos and product descriptions.
Unfortunately, when you click on any product to visit that product's individual page, you see the same content that was on the category page.
The content on each individual product page should be unique content that doesn't appear anywhere else.
12. Is Page Title the same as the Main Headline and/or the Menu name of a page?
Many websites are built with systems designed to allow non-programmers to make changes to the website.  And some of those systems have default settings that can be detrimental for SEO.
In some systems, the Menu Name of a page becomes the Main Headline of the page and/or the "Page Title."  This may not be ideal for SEO, is likely never ideal for generating clicks in the organic listings, and rarely ideal for drawing visitors into a page:
"Page Title" seems to carry a lot of SEO weight, and is used by Google as the "Headline" of your organic listings.  So you want to write a Page Title of around 60 characters and ideally about 5 words that will encourage searchers to click on your listing.
The Main Headline on each page is there to tell the visitor what they will learn on the page — and can be longer than the Page Title.  Longer usually allows you to be more specific — and specifics SELL!
Menu Name should clearly tell the visitor what they'll find there in a short, concise phrase of 1-3 words
So for example, if you have "Solutions" in the Main Menu, you don't want the Headline of that linked page to just be "Solutions." That Headline doesn't include keywords that visitors are searching for, so it completely misses the SEO value it could have. And it also misses the usability value of telling readers what they'll learn to draw them into the page.
There are many ways that small businesses try to make services like SEO and website design more affordable.  Too frequently, these "affordable" website solutions are poorly thought out from the visitor point-of-view, feature poorly-drafted content, and are dismal for SEO purposes.
Small business owners:  do some simple research on best practices as well as WHAT NOT TO DO with SEO and website design.  Go through each point with anyone you're considering hiring — to allow you to base your decision more on effectiveness rather than the lowest price offered.
What Would You Do?
I just found out that a friend of mine, who was looking to gain some experience in website programming, is doing work for the company that created the particular website discussed above.  Should I say something to her???  (like "get the programming experience, but ignore everything they tell you about SEO, usability, and website design"?)  What would you do?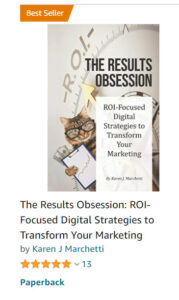 Excerpted from our new BEST SELLER, "The Results Obsession: ROI-Focused Digital Strategies to Transform Your Marketing"  now available on Amazon!
Learn more about The Results Obsession and see the Table of Contents (including a chapter on Website Navigation, another chapter on Website Content and Offers, an additional chapter on Website Copywriting, and a chapter on Search Engine Optimization.
Get the Chapter 1 excerpt: 6 Results Obsession Strategies and 3 Results Obsession Skills
Get the Chapter 2 Infographic: Diagnose Opportunities to Improve Results
Get the Chapter 19 excerpt: 10 Marketing Math Formulas to Analyze Your Results