Are you planning a website redesign in the future?
You want to know exactly what IS working – so you don't change the successful elements. And you want to identify exactly where your website needs improvement, so your revisions (or a whole new website) actually address those areas.
A great website should:
Be built for your audiences
Be continuously improved through analysis and testing
Enhance the experience with your brand
Help achieve your objectives cost-effectively
Is the focus of your website on these four areas? The result should be a website that is:
Traffic driving, specifically:
FIND-able: your SEO efforts should drive strong Organic search engine traffic.
LINK-able: your Content and Offers should be attractive to bloggers and other websites, so they want to give their audiences a link to your site (good for SEO and traffic)
SHARE-able: your Content and Offers should be so interesting, unique, and valuable that your audiences want to share them (which helps drive even more traffic)
When you craft your Content and Offers: are you trying to create something so interesting that your audience will share them? And other websites will want to link to them?
Leads and sales driving, specifically:
NAVIG-able: each Buyer Persona is looking for something specific when they come to your website. They should easily be able to find it in your menu.
VALUE-able: your Content and Offers should be attractive, unique, and useful to your particular Buyer Personas.
ACTION-able: your Offers (especially Early Stage Offers) should help motivate every Persona to take the next step. Your Sales Content should answer key questions – and objections – so visitors can be confident to take action.
Have you focused your website on the actions you want your Buyer Personas (or target audiences) to take? (Or is it more like a brochure? Are your Lead Generation Offers hidden?)
Your website should make your "brand image" (how you want to be seen) and "brand promise" (why you're different) come alive through the overall look, tone, and message. Is it clear to visitors why you're different?
How do you measure each of these elements?
You can analyze most of these with your website analytics.
Traffic-driving elements
"FIND-able" — Check your Organic traffic for the most recent 12 months.
In Google Analytics, see "Acquisition," "All Traffic," "Channels." In the Search box (just above the table), search "Organic" to get just the Organic numbers.
In the top right corner, set the date range you want to review.
Then add a Secondary Dimension (just above the chart) of "Time," "Month of the Year" to see monthly Organic traffic. Click the "Month of the Year" column to sort. Is your Organic traffic steadily growing?
How SHARE-able are your blog posts and Offers?
Check the traffic to your blog posts and Offer pages. See "Behavior," "Site Content," "All Pages." The amount of traffic to your individual blog posts and Offer pages indicates how attractive your topics are.
If you use a social sharing plug-in like "AddThis®," you can count your shares on social media, by email, and how many printed the page.
How LINK-able is your Content?
Check "Acquisition," "Referrals" to see which websites are sending you traffic. Do you find key bloggers and other industry websites?
From Google Search Console (google.com/search-console), select "Links" from the left menu to see which websites link to yours.
Your website should be a magnet to attract visitors. To drive more traffic:
Improve Your Content – make it more intriguing, valuable, and unique to drive more links and shares (and clicks from your social media posts and search engine listings)
Create New Content – for more listings on search engines, and to attract more shares and links
Optimize Your Content for Search – to be more visible on search engines and drive clicks
Lead and sales driving elements
How NAVIG-able is your website for each Buyer Persona?
Think about the key questions your Buyer Personas have. Looking at your Main Menu, can each Persona instantly find what he or she is looking for?
Are your Main Menu topics clickable? (They should link to a summary or comparison page to help visitors who don't know what they need.)
Do you have site search? Can visitors easily find it?
How VALUE-able is your website (to your Personas)?
Check your overall Bounce Rate and Pages/Session. In Google Analytics, see "Audience," "Overview."
Look at Bounce Rate by your key pages (see "Behavior," "Site Content," "All Pages").
High Bounce and low Pages/Session are indicators that your Personas are not perceiving your Content as valuable.
How ACTION-able is your Content? You can follow visitor actions step-by-step on your website in a number of ways . . .
Landing Pages
What are your most common Landing Pages where visitors start on your website? (In Google Analytics, see "Behavior," "Site Content," "Landing Pages.") Bounce Rate and Pages/Session give you an idea of how many users visit additional pages.
How effective is each Landing Page at keeping visitors on the site? What is the Average Session Duration?
Add a Secondary Dimension (just above the table) of "Users," "User Type" to see New Users for each Landing Page.
Among New Users, what's Bounce Rate, Pages/Session, and Average Session Duration for each Landing Page?
Conversion
Your "Conversion Rate" (to leads or sales) is the final key measure of how effective (or Action-able) your website is.
If you have Goals set up, Google Analytics will calculate "Conversion Rate" per Goal for the site and each Landing Page.
See "Behavior," "Site Content," "Landing Pages." Above the chart, use the Conversions pull-down to select the Goal.
Does your website enhance your brand image?
Does your website have a unique look compared to your competition? What impression does it give about your company?
Read your Home page and About Us copy out loud. Is that what you'd say to a prospect face-to-face? Is the copy stiff, or is it friendly? Does your Home page copy talk TO the visitor (using a lot of "you" and "your") – or is it a lot of "we," "our," and your company name?
What's your key "why I should buy yours" message? Compare this to the competition. Is it something others can say, or is it something only you can say?
 Before you start a website redesign project, evaluate your existing website. Be sure you understand what it does well, so you don't change those elements. And identify where opportunities lie for improvement. Be sure the plan for your new website specifically addresses those areas.
Excerpted from our new book, "The Results Obsession: ROI-Focused Digital Strategies to Transform Your Marketing" now available on Amazon. If you're considering improving your website, this book will walk you step-by-step through the process.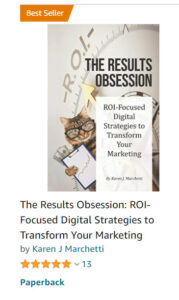 Learn more about The Results Obsession and see the Table of Contents
The book includes chapters on: accurately diagnosing your opportunities for improvement using Google Analytics, identifying why your customers buy, Lead Generation Strategies, crafting Lead Generation and Sales Offers, planning and editing the best copy of your life in all media, evaluating your website navigation, website design and content, and improving your website copy.