Where do you start — when you want to improve your website conversion?
If You Have a Lead Generation Website, Start with Your Response Page
Your response page is the page that gives the details of your Offer and includes your response form. Check your analytics:  What percentage of visits to that page result in a form completion?
Divide: a) the number of form completions by b) number of visits to the page within a defined period of time.
How to improve form completion?  Test the following items on your response page (if you haven't already) . . .
1.  Offer Copy
Your Offer is what's driving the response, so the copy must prove the benefits of responding. Be sure the scanning visitor (85-90% of all visitors) can quickly see the benefits of your Offer. Consider crafting bullets that each focus on a unique benefit of your Offer.
2.    Amount of Copy
You need just enough copy to convince visitors your Offer is valuable and they need to get it now!  Make your copy look easy to get through — so avoid long paragraphs.  Break things up into shorter sentences — the way you'd say the words out loud.
3.   Response Page Headline
If your page headline doesn't focus on the key benefits of your Offer, consider testing a new headline.
4.  Response Page Button Size
If your button isn't prominently displayed high up on your page, consider making it larger, or a different color to stand out more.  In general, buttons that are brighter in color generate better response.
5.  Response Button Copy
If your button says "Submit," it's time to test something more benefit-oriented, like: "Send me the white paper!" Don't worry about your button being too large (there's likely no such thing!). Get an action statement on your button.
6.  Amount of Information You're Asking For
The more fields the prospect has to complete, typically the lower your response. Do you really need all of that information? Pare down to just what you need — name, email address, and any specifics that will help you target your email conversion series.
Note: watch the number — and length — of any pull-down menus in your answer fields. Streamline and simplify where possible.  Remember that a growing portion of your audience will be viewing your website on a mobile phone, so make it easy for fingers to click.
Consider Results of Your Offer
Should you change your Offer?
Before you do, look at the amount of traffic to the Offer page. If there's significant traffic to the Offer page, that indicates there's significant interest in your Offer.
If few visitors complete your form, though, that probably indicates a problem with your Offer page itself as discussed above.
If traffic to your Offer page is low, it could be due to the way you've marketed your Offer on your website.  It's often a case of:
Not making your Offer visible enough throughout your website (resulting in poor traffic to your Offer page).  Be sure you're promoting the current Offer prominently throughout your website.  Your Offers should be prominently positioned above the fold on as many pages of your website as possible.
Not really convincing the prospect of the value of your Offer ( to get the prospect to click through to your Offer page)
If your Offer appears in prominent locations throughout your website, and it promises a benefit to your target audience — and your traffic to your Offer page is low, it could be time to test a different Offer.
Review Website Analytics
If your entire website isn't generating enough traffic, consider launching some traffic-building campaigns. If you're only getting 100 visitors to your site every month, and you're hoping to generate 200 new response form completions, the problem isn't your response page or Offer.
What have you done in the last 30 days to improve your website conversion?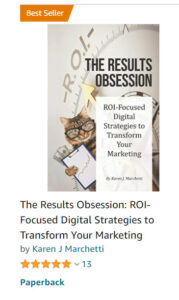 Summarized from our new BEST SELLER, "The Results Obsession: ROI-Focused Digital Strategies to Transform Your Marketing," now available on Amazon.
Learn more about The Results Obsession and see the Table of Contents
Get the Chapter 1 excerpt: 6 Results Obsession Strategies and 3 Results Obsession Skills
Get the Chapter 2 Infographic: Diagnose Opportunities to Improve Results
Get the Chapter 19 excerpt: 10 Marketing Math Formulas to Analyze Your Results