Testing is the secret to continuously improving marketing results. (If you're not always testing, you're likely throwing away money.)
What do we mean by "Testing"? You compare two or more versions of something at the same time, to learn which version is best.
What we DON'T mean by Testing:
"We tried that Offer and it didn't work"
"We tried that copy and it didn't work"
"We tried email or pay-per-click and it didn't work"
"We tried that Mailing List and it didn't work"
When you continually test, you will test your way to success.
If you just try something once, there are too many variables affecting results to know whether the Offer, copy, or the media channel "did or didn't work." You need to compare your results to something.
You want to be able to say "We tested 2 versions, and this one did (or didn't) do better than the other one."
You can test your web pages, Landing Pages, pay-per-click ads, and email messages. Why guess which headline, Offer, key benefit, emotional driver, Mailing List targeting, or exact words you should use? Why not actually find out what works best? 
Each test can help you identify new ways to boost response. And small increases in response, when taken together, can have a huge impact on ROI.
That's why we test!
At a major marketing conference, the keynote luncheon speaker was Emily Soell (pronounced "sell" – perfect name for a copywriter.) Emily wrote some of the most profitable sales-driving copy in history, including the copy that launched Conde Naste Traveler magazine.
Emily told the audience she was going to show a number of tests her agency had done. And she invited us to vote for the winner in each test.
As she went through the tests, she told us which version she thought would win in each case. Surprise:
Even the expert Creative Director – Emily Soell – wasn't
always correct in picking the winner before the test!
 At the luncheon, I sat next to Bill Brown, who was then Creative Director for a major West Coast agency. He was also the recipient of multiple Direct Marketing Association ECHO Awards (awards based on results).
Before Emily began, Bill said to me, "Let's see if we can pick the winner in each test and see how we do."
Of course, I didn't always choose the winning version. But neither did Bill! As the consummate Creative pro, he turned to me afterwards and said:
"THAT'S WHY WE TEST!!!"
If even the pros who regularly drive millions of dollars in sales have to test to find the best option, we should all be testing.
So why aren't you testing? (None of these are good reasons . . .)
"We don't have the traffic volume for that."
It's true that you want a reasonable number of actions (50-100 per test version) to typically have a statistically significant difference in results. If you don't have that kind of volume in a month, then run a longer test.
"We don't have the time for that."
You can easily test during your normal campaigns. Google pay-per-click (PPC) Ads make it so easy for you to just create more than 1 version of your ad within each Ad Group. Google then rotates your test ads for you!  You can test different headlines, individual words within your headlines, Offers, benefits, and the way you describe your benefits.  You can usually get a PPC test done fairly quickly – and then use what you've learned in your other media channels.
You can split your email list into 2 groups and send 2 different email efforts to each of the 2 groups. When you include a link to more information on your website, you can code your link to identify the 2 different email efforts using UTM tracking. For example:
https://responsefx.com/10-marketing-math-formulas-analyze-results/?utm_medium=email&utm_source=marchcopytest&utm_campaign=superiorresultsversion
Then in Google Analytics, check "Acquisition", "Campaigns" to see results from each Campaign version.
If you're using WordPress, you can add the Nelio plug-in to easily create a test version of one of your landing pages. The plug-in will rotate the page versions for you. (At $29/month, it's a great investment in stronger results.)
"We can't afford testing."
With a Google PPC Ad test, you can turn the test on and limit your spend per day. Once you've got enough data, you could just turn your Campaign off if needed. But you may want to keep testing – to keep learning how much more effective your marketing copy and Offers could be.
With most email programs, you can test without spending any additional money.
And Nelio for your WordPress site is just $29/month (or $299 if you pay yearly).
"We tried that and it didn't improve results."
Did you really test two different versions at the same time? It's true that not every test finds a winning version that improves results significantly. But why not give yourself a chance to find something that works better?
Testing should happen continuously. Every day that you're just "winging it" and not testing to find the best-performing options is a day that you're likely wasting marketing budget.
Always be testing something new. Many test efforts can find versions that generate 2-3x  the click traffic, leads, or sales.
"We don't know where to start.'
Start where you have the most volume. That might be your lead generation Offer landing page. Or your most popular ecommerce product page. Test 2 different headlines until you have 50-100 responses per version. Then, apply the winning headline to your page. Start a new test with different copy to describe the benefits of your Offer or product. Or if your copy appears in paragraphs, pull out the specific benefits and put them in bullet points.
Once you've found the winning copy version, test 2 different versions of the copy on your lead generation response button. And so on, to test every element of your most important landing pages.
The idea of testing is not to guess what's going to work. Why not test to actually find out what's most effective for your particular audience(s)?  Your minimal investment in testing can quickly add up to a significant improvement in traffic, leads, and sales.
Excerpted from our new Amazon BESTSELLER, "The Results Obsession: ROI-Focused Digital Strategies to Transform Your Marketing" !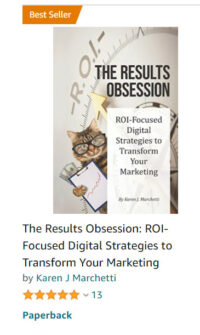 Learn more about The Results Obsession and see the Table of Contents
The book focuses on the highest ROI media channels — your website, email, and PPC advertising. And it details step-by-step how to improve those elements that have the strongest impact on results — through TESTING!
From Diagnosing with Google Analytics, to creating Customer Personas, to crafting Lead Generation and Sales-Driving Offers, to Messaging Strategy and "Writing the Best Copy of Your Life", you'll learn how to improve every element of your website, email, and PPC efforts. You'll see step-by-step how to set up tests in various media channels and analyze results. Plus, you'll have all of the most useful marketing metrics formulas.