What will marketers learn over the course of 30 years?  Here's what we've learned over the last 30:
Testing and tracking are just part of a marketer's critical skill set now
Testing your way to success is the smartest way to invest your (or your client's) marketing dollars. If you're not testing (which can be done easily in email, pay-per-click ads, or with WordPress plug-ins like Nelio), you may be wasting every dollar you spend.
Doing one version of something is not a valid test. You need something to compare it to.
Tracking everything helps you maximize your testing investment.
Rely on diagnosing where your marketing efforts went wrong or where they need help – before you change things or bring in new resources (which is easier than ever, through the use of Google Analytics, email analytics, and pay-per-click advertising analytics.)
"I've done hundreds of (insert type of campaign here)" does not mean the person or agency or vendor is an expert. Results are everything.
Knowing your customer "Personas" is still the smartest exercise a marketer can undertake
Knowing everything about your particular customer "Personas" gives marketers an incredible advantage (and should be an on-going effort that today is easier than ever).
The secret to driving leads is still the Offer
The "Offer" – or the "what do I get if I do what you want me to do" – is still the critical element that drives Leads. Need more leads? Test some new and better Offers. (If your website isn't generating the leads you need, don't automatically assume "we need a new website.")
Prospects go through "Buying Stages" – typically some type of Research phase, then a Brand/Company Identification phase, and maybe also a Brand/Company evaluation phase. If you create content and Offers for each of these phases, you can help move prospects through the sales process faster.
Content and copy that actually sells talks conversationally to the audience
"Best Practices" are where you start if you're creating a new campaign using a new media channel to a new audience. But once you see what works and what doesn't, those tangible results trump "best practices" all the time.
Prospects still need the answers to 2 questions: "What's in it for me?" and "Why should I buy yours?"
Adding emotion into copy is the key to really unique and compelling content.
If you read a headline and say, "so what?", you'll likely get poor results from the entire effort.
Everything needs to be scannable. That means if I read just your headlines, subheads, bullet points, bolds, etc. I should learn all the key points you're trying to communicate.
Humor that sells is really hard to do well and effectively in marketing.
The only people who read every word of your copy are those that work in your company and have to review copy.
The only people who care about your "Mission" are those that work in your company.
Numbers and analytics don't need to be scary to marketers
Cost Per Sale and Cost Per Lead are still the 2 most important metrics every marketer needs (and require very few math skills to compute).
Google Analytics involves little (if any) math and no programming skills to get the benefits
Websites should have the key elements where visitors will look for or notice them
You can't expect to tell a prospect ONLY on your Home page or About Us page "why should I buy yours" – and expect them to look there for it.
When visitors come to your website with specific questions, it should be clear from your Navigation where they'll find the answers.
Visitors don't come to websites looking for "lead generation Offers." They're not going to search around for them, so place them on Home, every product page, and every blog post.
You'll get a lot more email sign-ups the fewer questions you ask.
If you're using social media to promote your blog posts, put an Offer on every blog post page to maximize the value of every visitor.
Pay-Per-Click (PPC) ads are the fastest way to identify the right words
If your Google pay-per-click keywords aren't specific to your particular product or service, you'll waste a lot of money on irrelevant clicks.
You can easily use PPC to discover exactly which wording to use in a headline, which benefits resonate more with your audience, and which Offer is more effective.
Email still isn't really done right
If the Subject Line of the email doesn't grab the recipient, you've wasted your efforts.
The best emails tell the recipient something he or she didn't know.
Most companies don't do a great job of educating their customers about all the benefits of working with them.
Great marketers are a unique mix of creativity and analytics
Some of the most valuable members of a company's team can be marketers – when they understand why their customers buy, and know their Cost Per Sale or Cost Per Lead
Lessons learned over 30 years (including the painful ones that were difficult to swallow) made us better marketers in the end.
Response FX celebrates its 30th year of marketing consulting, copywriting, Google Analytics and Google Ads management, and WordPress website and SEO management. And we've enjoyed (most) every minute of it.
Excerpted from our new Amazon BESTSELLER, "The Results Obsession: ROI-Focused Digital Strategies to Transform Your Marketing" !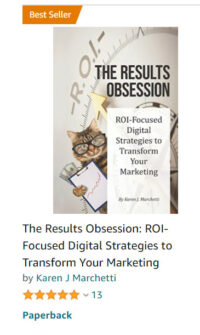 Learn more about The Results Obsession and see the Table of Contents
The book focuses on the highest ROI media channels — your website, email, and PPC advertising. And it details step-by-step how to improve those elements that have the strongest impact on results.
From Diagnosing with Google Analytics, to creating Customer Personas, to crafting Lead Generation and Sales-Driving Offers, to Messaging Strategy and "Writing the Best Copy of Your Life", you'll learn how to improve every element of your website, email, and PPC efforts. Plus, all of the most useful marketing metrics and how to test your way to success.