On the first day of Digital Marketing Planning, my boss (or client) suggested to me that we need:
One Measurable Plan!
On the second day of planning, my boss said to me:
2 Website Questions
What is each of our Buyer Personas looking for when they visit our website, and can each Persona instantly find it?
On the third day of planning, my boss gave to me:
3 Web Design Directives
Use the top of each web page as wisely as possible and list items in priority order on each page. Use  the layout to move the eye to the most important elements. And make each page look easy to get through.
On the fourth day of planning, my boss asked for:
4 Key SEO Factors
Keyword-focused page URLs, keyword-focused Page Title written like a headline,  original and unique content, and a continuous plan for new content.
On the fifth day of planning, my boss asked what are our:
5 Lead Capture Strategies
Craft valuable Offers, include lower commitment Offers, craft Offers for each stage of the sales process, "merchandise" each Offer to make it sound irresistible and illustrate its value, and give prospects an easy form to complete.
On the sixth day of planning, my boss asked for:
6 Moments of Truth in Email Marketing
Build value into every email, write an engaging Subject Line, write a personal message to each Persona, craft messages for each point in the sales cycle, include a link to take action, and track clicks by topic and recipient.
On the seventh day of planning, my boss requested:
7 Google PPC Ad Secrets 
Create small tightly-focused ad groups (of keywords and ads), start with phrase match for better quality, test multiple ads in each ad group, link to focused landing pages, use sitelinks, use conversion tracking, and check "search terms" to identify potential negative keywords.
On the eighth day of planning, my boss wanted a list of:
8 Things Our Website Content Should Do
"Flag" the audience, appeal to each Buyer Persona, appeal to one of the 7 emotional drivers, draw the visitor in, engage the visitor throughout, give the visitor an outline of each page just by reading headline and subheads, answer "why should I buy yours", and answer "what's in it for me?"
On the ninth day of planning, my boss still asked about:
9 Content Marketing Strategies
Craft content for each Persona, include content for each step of the sales process, re-use content across formats, revisit opportunities to combine or expand or summarize existing content to add value, turn some content into Measurable Offers, include SHARE options, build real value into every piece of content, tell each audience something they didn't know, and design content specifically to reach new audiences.
But on the tenth day of planning, my boss moved on to:
10 Ways to Improve Our Copy
Build in more specifics, avoid the "so what" headline, make headlines and subheads scan-able, write the copy in a conversational tone, use strong action words, lead with power words, get the "you" in there, use the 7 emotional drivers, edit to be lean, and incorporate keywords for SEO.
On the eleventh day of planning, my boss then wanted to know:
11 Elements to Correctly Diagnose Our Marketing 
Overall traffic trends over time, Traffic trends by channel, Organic traffic trends over time, Quality of overall traffic, Quality of traffic by channel, Email click-through, PPC click-through, conversion to leads or sales by channel, traffic to key website pages, overall website conversion to leads or sales, individual landing page conversion.
And finally, on the twelfth day of planning, my boss was ready to review:
12 Marketing Metrics to Track Regularly
Unique website users, first-time website users, unique visitors from each channel, keywords driving traffic, growth in the prospect database, email click-through, PPC cost/sale or cost/lead, number of blog comments per post, which post topics got the most comments, which social media tweets got the most retweets, which social media posts drove the most traffic, and landing page conversion.
Happy Digital Marketing Planning to all!
If you need more detail on the planning points above, our new BEST-SELLING book, "The Results Obsession: ROI-Focused Digital Strategies to Transform Your Marketing" is now available on Amazon!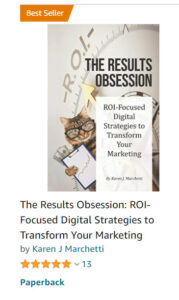 Learn more about The Results Obsession and see the Table of Contents
Get the Chapter 1 excerpt: 6 Results Obsession Strategies and 3 Results Obsession Skills
Get the Chapter 2 Infographic: Diagnose Opportunities to Improve Results
Get the Chapter 19 excerpt: 10 Marketing Math Formulas to Analyze Your Results