If you're relying on an e-newsletter or other promotional emails to nurture your prospects and retain your customers, do you know if those emails are being read?
Interest in most e-newsletters declines fairly quickly.  It's likely that few of your promotional emails are even being noticed.  And if you're trying to reach the millennial audience (the "20-somethings") by email, you can pretty much forget it.
You need to deliver something of value in your email communications.  Try to tell your audience something useful that they didn't know — give them a useful tip, or some steps they can take to improve something.
I recently reviewed a B2B email effort to prospects.  This company sells a Complex product at a high perceived Cost that Changes the way their audience does their job.
Those 3″C's" — Complexity, Cost, and Change — indicate a high level of education will be needed to make the sale.
But the company's email effort wasn't engaging.  No useful information was delivered.  No specifics were included to further educate the prospects on this Complex solution.
Worse, the sample email started with "Dear . . .". When was the last time you sent an email that started "Dear . . ."?  If you wouldn't use that salutation in your everyday email messages, don't use it in your promotional emails. It looks like spam — both to the recipient as well as to many ISPs.
The lead sentence in your email message is CRITICAL.  If you don't grab your recipient there, it's likely your email won't be read at all.
The subject line and the first few lines are what you're relying on to draw your reader in.
The company email we reviewed started out, "The market is currently .  . . ".  Let's see — if you met me face-to-face or called me by phone, would the first words out of your mouth be something that impersonal?
The email did include some bullet points — a very smart way to catch the eye of the scanning reader.  But unfortunately, those bullets were too generic, and didn't deliver enough "meat" to really engage the reader.
After reading the entire email, I still didn't know anything more about the company's solution.  And that's a surefire  way to guarantee the company's future emails won't be read either.
The email concluded with a high commitment Offer to schedule an online demo.  (In the eyes of the prospect, this translates to "talk to a salesperson.")
In this case, it's unlikely that prospects will be ready for this step when they haven't yet been educated on this Complex and Costly solution that Changes the way they do business.
How to turn this email around?
1.  Promise something useful in the subject line.
Consider a case study, how another company benefited from the solution, "something your competition doesn't know", useful tips to gain an advantage, etc.
2.  Start the email the way you'd actually talk to me
"Hi Karen, Two of your competitors just . . . with our solution and I thought you'd want to know how they did it . . ."   Grab the reader right in the first line — because if you don't, they may not read any further.
3.   Tell prospects something they didn't know
Give prospects some useful "meat" that differentiates your solution and really illustrates the value they'll  enjoy.  Tell them something MEMORABLE — not something every competitor says.  Can you PROVE the value of your solution?
Our client, Brilliance Financial Technology, can cite the ROI their bank clients have achieved with their DealPoint solution.
4.  Get prospects to take the next step
Maybe they can request access to a video, download a white paper, download a podcast, or request access to an online tool.
The key reason most promotional emails aren't read?  We don't deliver enough value within them.  Send valuable emails that tell your audience something they didn't know, something that could benefit them, and watch your conversion rate soar.
Have you seen any great Subject lines or lead sentences in promotional emails you've received?
Excerpted from our new Amazon BEST SELLER, "The Results Obsession: ROI-Focused Digital Strategies to Transform Your Marketing" 
Learn more about The Results Obsession and see the Table of Contents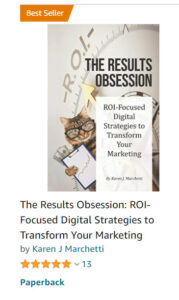 The book includes 6 copywriting chapters:
Messaging Strategy for Copy that Sells (copy approaches, emotional drivers)
Great Copy: How to Recognize, Write, and Refine It (writing headlines, engaging leads, and copy that follows the sales process)
Crafting Great Copy: Part 2 (all the wordsmithing details to craft the best copy of your life)
Website Content Strategy and Offers
Website Copy that Sells
High Impact Email Strategies
Creating Email to Drive Leads and Sales