The most successful Marketing departments get the most from every marketing dollar. Here are the key components of their marketing plans . . .
1. Unique brand messaging drives sales
The answer to "Why Should I Buy From YOU" is your brand positioning. The most successful Marketing departments have the answer to this question posted on their wall so everyone knows it.
The key is to PROVE why you're different from the competition. Your brand positioning shouldn't just be a tag line of empty words.
The test of every web page, every email, and every other communication generated by Marketing is this:
If it's clear why someone should do business with your company — rather than your competitors — the communication is doing its job.
2.  Fanatical about knowing your customer(s)
Having a deep understanding of your Buyer Personas is one of the most valuable skills a Marketing team can build (and a key to being invited to the senior management table.)
Is Marketing a clear "Voice of the Customer" in your company?
In meetings about new product/service introductions, is it Marketing that can say, "Because our customers value …, we should consider…"
All marketing starts with the customer. Understanding your customer(s) is perhaps the greatest skill to guide copy strategy, SEO strategy, PPC strategy, website design strategy, email strategy, etc. — in other words, I couldn't function without it.
3.  Use data by Persona to craft relevant messages
The smartest thing you can do is send relevant communications to your Buyer Personas.
Use your data to customize your communications based on what you know about your customers and prospects.
The results include: better return on marketing investment, better readership of each communication, stronger customer loyalty, fewer unsubscribes, and better prospect Conversion.
4.  Continually educate your audiences
Don't send emails that waste your Personas' time. Communicate by sending valuable information — tell them something they didn't know. 
Most customers have no idea of all the products you offer, or all the benefits of the products they've already purchased. Few, if any, customers have read every page on your website.
Make it your goal to turn every customer into a fan that wants to do more business with you!
Nurture every prospect over time by educating them about your solution. Effective nurturing should generate a steady stream of sales-ready leads or direct sales.
5.  Track everything:  Be Results Obsessed!
This is the only way to spend your marketing dollars most effectively. The smartest Marketing departments dazzle the CFO with their knowledge of Cost Per Order by channel – and use it to justify the marketing budget to meet the company's sales goals.
6.  Test everything to test your way to success
Testing your way to success is the key to doubling and tripling your response. For each media channel, there are certain elements that have the biggest impact on results (which we've talked about in this book). Focus your Testing there.
This is the secret for getting far greater return from your marketing efforts — without increasing your budget.
7. Build Lifetime Value of every customer
Maximize the value of your customers by meeting more of their needs. You want to secure a bigger piece of each customer's business — and make your company more indispensable to every customer.
Communicate with your customers regularly. Be sure they're the first to know about any new product, service, benefit, special Offer, award, or positive press you've received.
8.  Run the numbers before you spend
Know what your breakeven is before you ever spend a dime, so you can modify your program if needed. You should never be surprised when a program is unprofitable.
Plan programs to be successful before they ever begin.
 If your CEO isn't impressed with your marketing efforts, adopt these 8 strategies to start regularly proving your value.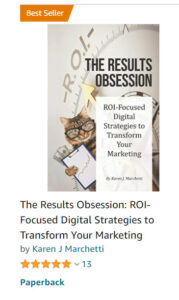 Excerpted from Chapter 20 of "The Results Obsession: ROI-Focused Digital Strategies to Transform Your Marketing," our new BESTSELLER now available on Amazon.
Learn more about The Results Obsession and see the Table of Contents
Get the Chapter 1 excerpt: 6 Results Obsession Strategies and 3 Results Obsession Skills
Get the Chapter 2 Infographic: Diagnose Opportunities to Improve Results
Get the Chapter 19 excerpt: 10 Marketing Math Formulas to Analyze Your Results
Get our Latest Blog Posts by Email