Your marketing efforts likely revolve around the most important Sales and Lead Generation vehicle we have – a website.
But it seems to be the single area where companies make their poorest decisions when choosing outside marketing resources. Why is that? The blame is shared between client — and the outside resource.
Did you correctly diagnose what you need?
The SVP of Sales and Marketing wasn't happy with the number of leads the website was generating. So he enlisted his marketing manager to solve the problem. Unfortunately, she didn't understand why the website wasn't generating leads. (She "periodically brought in someone to review the Google Analytics." But apparently, "periodically" wasn't often – or thorough– enough.) She concluded it was a website problem and assumed some web designers were needed. So, she hired a web design firm whose designs she liked.
She didn't understand that she had a Lead Generation problem and didn't seek out resources with that expertise.
If the key objective of your website is Lead Generation, you need a website team with specific expertise in Lead Generation.
Lead Generation is a marketing specialty. Your website team may need to:
Craft unique Offers in unique formats that will achieve your Lead Quality/Quantity objectives (there are dozens of different Offers you could use, far beyond B2B white papers)
Create Offers that will attract your key audiences or Buyer Personas
Attract your Personas at Early Buying Stages, so you can communicate with them and guide the features they look for
Prominently place Offers throughout the website and create Conversion paths.
Are these the topics your outside marketing resources discuss with you?
Doesn't every digital agency know how to generate leads effectively (and cost-effectively)?
Sadly, no. The marketing manager thought she needed a new website. So she hired a web design firm. They said, "you have a positioning problem", and they recommended some branding consultants. The branding consultants put together a big plan that addressed many important elements – but never addressed how to get more leads.
The web design firm, the branding consultants, and the client all completely misunderstood what was causing the lack of leads. They didn't have expertise in Lead Generation, and didn't even consider the element that drives leads – the Offer.
The company's problem wasn't the website per se, it was the lack of visibility of Lead Generation Offers that would appeal to the company's Buyer Personas.
Rather than spending a fortune creating a new website, or hiring branding consultants to create a new plan, why not just test some new Offers in prominent locations on the current website?
Ask your outside resources to confirm your diagnosis
Do your outside resources ask you about your diagnosis, to see if they could help you confirm your particular situation?
Or do they just do what you say you needed?
When you say, "we need a new website," they should ask what you're trying to accomplish with the new website. When you say, "we need more leads," that should start a discussion of HOW to generate more leads. If that isn't what happens, they likely aren't the resource to solve your Lead Generation problem.
How to evaluate marketing proposals
Always talk to at least two potential agencies, web designers, freelancers, consultants, etc. before you start any given project. You want to request proposals from at least two companies to compare their strategies to achieve your particular goal. (And you always want to see the results they've achieved.)
Do they ask what you've done before, what you've tested, and the results you've achieved? If they don't, Testing and results are not likely to be their focus.
Can they talk about the Testing they've done? How have they improved results for other clients? By results, you want to see Leads and Sales, Cost/Lead, Cost/Sale, and Conversion Rates.
(If you need to generate leads:) Can they discuss how they craft Lead Generation Offers? How do they manage the Lead Quality/Lead Quantity tradeoff? Do they ask about your need for generating A, B, and C leads? (If they don't bring these topics up, their expertise is not in Lead Generation.)
Do they ask how much you can spend to create a customer or what is the value of each customer? Can they talk about how they've reduced CPO (Cost Per Order) for other campaigns they've created?
These points illustrate what the focus should be for a Lead Generation resource.
Start with correct diagnosis before you hire digital marketing resources
Too many marketers seem to have a blind belief in marketing companies. Hiring marketing resources has become similar to hiring an auto mechanic or plumber – it's "buyer beware." You want to believe (or you assume) that the vendor knows what they're talking about.
But it's the job of the client to be sure you've correctly diagnosed your situation – and that you find a resource that can actually help you improve that situation.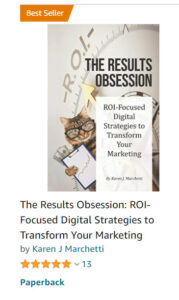 Excerpted from Chapter 20 of "The Results Obsession: ROI-Focused Digital Strategies to Transform Your Marketing" our new BESTSELLER by Karen J. Marchetti.
Includes chapters on: website navigation, website copy, Google PPC ads, email strategy, email copy, Offers, Lead Generation, Testing, marketing math, and more.
Learn more about The Results Obsession book and see the Table of Contents
Get our Latest Blog Posts by Email