Digital marketing strategies have been around for more than 20 years. Haven't we learned by now how to maximize results from every effort?
What prevents stellar marketing results? Usually, it's due to two strategic gaps:
1. Lack of focus on results (and ROI)
You may not be focused on Traffic, Leads, and Sales — the three basic pillars of your marketing "funnel."

Your team may not be analyzing progress step-by-step through those pillars
You're not identifying where key problems and opportunities lie
2. Lack of Testing
You may not be learning what works in your marketing – and "testing your way to success."
You may not understand what's actually driving your Traffic, Leads, and Sales.
And you may not know what's most important to your audience(s)
These two gaps lead to the cardinal sin that drives wasted marketing dollars: the misdiagnosis.
When you misdiagnose your marketing situation or problem, you waste money on everything you pursue.
How does misdiagnosis happen?
Here's the most common example:
"Our website isn't generating enough (leads, sales, organic traffic, etc.), so we need a new website."
You may embark upon a lengthy and costly website redesign project. But no one analyzes WHY the website isn't generating enough (leads, sales, organic traffic, or whatever) — and the web developers don't ask. Nor do they suggest a review of your website analytics to find out.
Maybe you don't specifically ask the web developers how they would solve a (Lead Generation, sales, organic traffic, etc.) problem.
And that's a shame, because just a few elements typically cause most results problems.
If you don't identify the original problem, the website redesign project has little chance of solving it.
We misdiagnose . . . because:
We don't analyze step-by-step, and
We don't understand what drives Traffic, Leads, and Sales, and
We don't understand the elements that have the most impact on results . . . because
We don't test, and
We don't track results.
In most companies, it's a lack of the right STRATEGIC approach to your marketing.
If you're going to devote marketing budget to any effort, shouldn't you know what you got for that budget?
Don't you want to show your boss how you've improved results – and return on marketing investment?
Doesn't it make sense to test, rather than guess, so you can identify the most effective direction?
Focus on results to transform your marketing
To generate consistently great results – and maximize the return on your marketing budget — you need to focus on:
Constantly improving your Traffic, Leads, and Sales
Constantly testing
Tracking and analyzing results step-by-step
In the process, you will:
Pinpoint opportunities to continuously improve your results
Learn exactly what marketing elements work best for you, so you can apply them across media channels
Prove how cost-effective and valuable your marketing is
4 "Results Obsession" strategies to drive your marketing
If you're going to become "results obsessed," you'll need to build expertise in a few main strategies:
Results Obsession strategy #1: Diagnose step-by-step
Step-by-step analysis is the key to diagnosing your marketing situation. Reorient your focus to three main metrics: Traffic, Leads, and Sales.
When you analyze step-by-step, you solve:
The struggle to find out what solution you need to fix a problem
Wondering how to improve your website or any other tactic
Wandering from tactic to tactic, looking for one that works
Constantly changing agencies and other resources in search of better marketing results
Taking a step-by-step approach to diagnose correctly is the first step to a more positive marketing ROI.
Results Obsession strategy #2: Continuously learn and improve through Testing
When you focus on continuous improvement, you realize your marketing isn't going to be most effective when you "set it and forget it."
To improve continuously, you need to be testing constantly. Some media are great for quick tests. You can take what you learn and apply it to other media channels. By testing constantly in "quick test" media, you'll drive continuous improvement. And you'll wonder how you ever did your job without it.
Results Obsession strategy #3: Measure every step you can measure (which is more than you think)
You have tremendous tools available to look at your website results. You can see the sources of traffic, number of clicks on particular buttons or links, number of visitors that got to your Offer or individual product page, number of visitors that started the checkout process, and more.
Many media channels have their own built-in tracking, like email and pay-per-click advertising. You can test different headlines, different benefits, different Offers — and learn which individual words work best! Measuring marketing has never been easier — you just have to analyze the data to arrive at the right conclusions.
Results Obsession strategy #4: Equate your costs to results whenever possible to get to ROI
The key is "cost per action." You can measure just about every marketing effort in terms of actions taken. When you can count the number of actions, you can compute cost-per-action.
Download the full list of Results Obsession strategies — plus 3 Results Obsession skills your team needs to build.
When you bring a Results Obsession to every marketing effort, results improve
These are some of the ROI-related strategies you need to transform your marketing. You can use them across media to continuously improve your results – and help invest your marketing dollars more effectively.
Never misdiagnose a marketing problem or miss an improvement opportunity again!
"Advertising . . . must now become accountable. Advertising . . . must become an investment in profits."

Lester Wunderman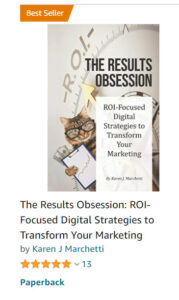 Excerpted from our new BEST-SELLING book, "The Results Obsession: ROI-Focused Digital Strategies to Transform Your Marketing," by Karen J. Marchetti, now available on Amazon.
Learn more about The Results Obsession and see the Table of Contents
The book focuses on the highest ROI media channels — your website, email, and PPC advertising. And it details step-by-step how to improve those elements that have the strongest impact on results — through TESTING!
From Diagnosing with Google Analytics, to creating Customer Personas, to crafting Lead Generation and Sales-Driving Offers, to Messaging Strategy and "Writing the Best Copy of Your Life", you'll learn how to improve every element of your website, email, and PPC efforts. You'll see step-by-step how to set up tests in various media channels and analyze results. Plus, you'll have all of the most useful marketing metrics formulas.
Get Our Latest Blog Posts by Email
Wunderman, L. (1997) Being Direct: Making Advertising Pay. Random House