Why do we have so much trouble articulating in copy – especially website copy – why our company is different?   
Is it clear "why should I do business with you" on your website (and in your direct mail, email – EVERY marketing effort)?
A large seminar company called us recently.  They were just about to launch a promotion for a particular seminar.  "Can you just look over the copy, and let us know what you think?"
I scanned the page – as most site visitors will.  I read the headline.  I looked for subheads (there weren't any).  I bypassed the three chunky paragraphs of copy at the top, looking for the "why should I attend YOUR seminar" bullets.  I called the company back after about 15 seconds, and asked one question:
 "Why should I attend your seminar?" 
 "Gee, you're really putting me on the spot, aren't you?" was the marketer's answer (yikes).
It's a wonder that we expect web visitors to figure out why they should buy from us, when even WE don't know!
Note to all marketers:  the "why should they buy yours" question should be the FIRST one answered as part of your planning process for ANY marketing effort.
After the marketer thought about my question, she came up with four great reasons why I should attend her seminar over the competition.  I told her to revise her copy to focus on those four great reasons to buy.
 Why should I buy yours – on every page
When we looked at the four reasons for attending the company's seminar, we found that three of those reasons were reasons to choose that particular seminar provider (i.e., they answer the question, "why choose our company").
Those three reasons belong on every page of their website.  Why?   The search engines' organic results could list any page of the site, depending on the search terms entered.  Since we can't control which page might be the "entry page" for any given search engine visitor, the "why should I buy yours" message must be on each and every page.
It's just too easy for a visitor to hit the "back" button if they're not convinced to buy when they visit our site.  We all need to get better at taking advantage of every visitor.
Do you know "why I should buy yours"?
More from our new BEST SELLER, "The Results Obsession: ROI-Focused Digital Strategies to Transform Your Marketing" now available on Amazon. If you're considering improving your website, this book will walk you step-by-step through the process.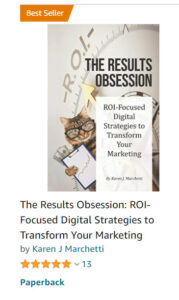 Learn more about The Results Obsession and see the Table of Contents
The book includes chapters on:
Accurately diagnosing your opportunities for improvement using Google Analytics
Identifying why your customers buy
Crafting Sales Offers
Planning and editing the best copy of your life in all media
Evaluating your website navigation, website design and content
Improving your website copy