Are You Seeing Digital Marketing Results Like These?
67% Boost in website guest accounts
60% completion of online engagement device by C-level audience with 27% B2B opt-ins
22% B2B prospect opt-ins from new content marketing approach
TRIPLE the email click-through with new approach
DOUBLE the ecommerce sales from the new Email Series
Cost Per Sale Drops by 82%
If not, maybe it's time to transform your digital marketing with a new focus – on analytics and testing.
Our new BEST-SELLING book, "The Results Obsession: ROI-Focused Digital Strategies to Transform Your Marketing," now available on Amazon, takes you step-by-step through a better process.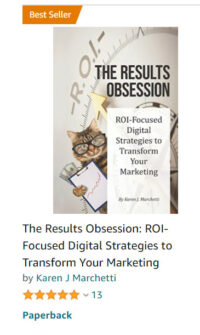 Learn more about The Results Obsession, see the Table of Contents — and get 10 Marketing Math Formulas to Analyze Your Results (a free excerpt)
Create your Buyer Persona profiles
Get dozens of Lead Generation and Sales Offer ideas
Understand your customer Buying Stages
Assess your website navigation
Evaluate and plan better website copy
Plan your email conversion series
Learn step-by-step testing
and more!
Does Your Website Need to Get in Shape? Most Do.
Has your website gotten a little sluggish – with too few leads or a lack of sales?  Maybe it's a little too  flabby in the copy – with a high bounce rate.  Every website can benefit from a little self-improvement.
Maybe it's time to go to Website Rehab  . . .
Are Your PPC Ads Feeling Forgotten?
Google Ads can be your best friend – when you pay attention to them regularly.  
Are you always testing different ads against each other?
Have you discovered which words in headlines and descriptions drive sales most cost-effectively?
Google Ads should be actively and regularly managed to get the best results.
Does Your Content Really Sell?
Is it really engaging?  Does it hold your audience's attention?
Does your copy sound exactly the way you'd say it face-to-face or over the phone?
Does it follow the "Sales Process"?
Does it deliver a unique message that no other competitor can say?
Does it use emotion to draw the reader in?
Better Marketing Results in Record Time
We constantly test the elements that have the most impact on your Traffic, Leads, and Sales, to continuously improve your digital marketing results.
We'll track results step-by-step to learn how to make every effort as effective as possible.
We'll help diagnose problems and find opportunities.  We're Google Analytics certified.
Ready to Take the First Step?