Your key metrics start with Traffic, Leads, and Sales.
You'll also want to track results of your on-going digital marketing programs.
Here's what to look at each month (or more frequently):
1. Traffic: number of unique visitors to the website
You want to see the number of Users to your website steadily increase. (In Google Analytics, see "Audience," "Overview.")
2. Traffic quality: Bounce Rate, Pages/Session, Session Duration
What are the trends in Bounce Rate, Average Pages/Session, and Average Session Duration? Ideally, you want to see Bounce Rate decline while Average Pages/Session and Average Session Duration increase.
3. Organic traffic
You should see a steady growth in Organic traffic, especially if you're adding new blog posts (or other pages) regularly.
In Google Analytics, see "Acquisition," "All Traffic," "Channels." Compare the number of Users per month to leads or sales from Organic per month, to see trends in your Conversion Rate.
4. Growth in non-branded keywords
You want to see more traffic driven by non-branded keywords – those that don't include your company or product names. (You can do this for free with Google Search Console.) That's one sign your SEO efforts are effective.
5. Traffic trends in other media channels
Monitor traffic trends in email, paid search, social media, and paid social. Look at Bounce Rate, Pages/Session, and Average Session Duration. Compare the number of Users to leads or sales by channel to see trends in your Conversion Rate by channel.
6. Leads: growth in your prospect database
Is your prospect database growing? Are you getting new enewsletter subscribers? How about responders to your other Lead Generation Offers (white papers, other Content Offers, webinars, etc.)?
What percentage of your website Users are converting to leads?
7. Conversion of leads (to take next step and to sales)
Keep track of Conversion from your email nurturing efforts. Are you "testing your way to success" by finding ways to improve that Conversion?
8. Sales: number of sales, dollar sales, Sales Conversion
Look at overall sales, and then sales by channel to see where improvements and declines have occurred.
What percentage of Users are converting to sales (if ecommerce)?
Review Sales by Product if you're selling multiple products by ecommerce. (In Google Analytics, see "Conversions," "Ecommerce," "Product Performance." Set up Ecommerce Tracking if needed.)
You can also add a Secondary Dimension of Source/Medium to see which channel is driving sales of each product.
9. Cost Per Order
How much did you spend in marketing during the period? How many orders did you bring in? Marketing cost divided by orders = Cost Per Order. What is Cost Per Order overall, and by channel?
10. Engagement
In your enewsletter: compare number of Unique Clicks to Number Delivered to compute Click-Through. This will help you identify the topics your audience is most interested in reading about.
When you track which articles in your enewsletter are clicked by each individual name, you can then determine: which names have been "engaged" with you over the last 90 days, and which names haven't been "engaged" with you (over the last 3 months, 6 months, 12 months, or never).
In your blog: how many new comments did you receive? What percentage of blog posts have received comments? What's the average number of comments per post?
Which topics received comments, and which received the most comments? Which topics haven't received any comments?
On each of your social media pages: how many comments, likes, retweets, and shares did you receive? Which topics got the most engagement?
• On your Facebook page, see "Insights."
• On your Twitter home page, see "More," "Analytics." See "Notifications" in the left menu to see actual retweets and mentions.
• On your LinkedIn page, see "Analytics," "Updates."
Social media engagement helps expose your posts to new prospects — and helps keep your posts visible to your page followers on Facebook.
You can add all comments, likes, shares/retweets, and clicks per social media site. Divide that total by your number of followers or page likes to compute the percentage of followers engaged.
11. Other Metrics Specific to Your Business
If you sell memberships, subscriptions, or other products or services that renew, keep track of the number up for renewal, the number renewed, and the number not yet renewed.
12. Page Visits
Are you getting more visits to your key selling pages? What's the Bounce Rate? What's the Average Time on Page? (In Google Analytics, see "Behavior," "Site Content," "All Pages.")
For the new pages and blog posts promoted during the month, how many Unique Pageviews did each receive?
Each month, you want to look at metrics that directly address how well you're achieving your particular objectives.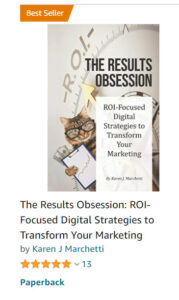 Excerpted from Chapter 19 of The Results Obsession: ROI-Focused Digital Strategies to Transform Your Marketing, our new BESTSELLER now available on Amazon.
Learn more about The Results Obsession book and see the Table of Contents
Get more from Chapter 19 below with "10 Marketing Math Formulas to Analyze Your Results."