If the main purpose of your website is to create leads, is your website focused on that?
Is your marketing team focused on creating leads?  Is your agency?
The company president advised me, "we've had 2 agencies in the last 18 months . . . the first was a design firm.  They did great design, but they couldn't deliver on the words."
But if you're trying to create leads, great design doesn't drive leads. Great Offers do!
"I told the second agency I needed a smart strategy — they assured me they were great with strategy.  But as we started to work together, they had no strategy."
What this client actually needed was an agency that understood how to create leads. But he didn't realize that every "marketing agency" didn't excel at Lead Generation.
When your website is focused on lead generation – and your marketing team is too – everything focuses on how to get the maximum value from every visitor.
For this client, he needed to start talking with agencies about their lead generation ideas.
Step 1:  Every traffic-driving activity should fit into your Lead Generation plan
When you promote your lead generation Offers on Google Ads or social media, you can link to a landing page.  What about ORGANIC traffic?
Did you think about how to turn that traffic into leads?
With Organic traffic, many different pages could be "landing pages."
Do you have an appropriate lead generation Offer on pages most likely to appear in search results (especially Home and key product pages)?
Are you using social media to pitch your latest BLOG post?
Is there a lead generation Offer on your blog posts?
Or are you just assuming your Organic traffic and visitors to your blog will find your lead generation Offers?  Most visitors won't – that's why 98% of visitors never leave a trace.
Step 2:  Craft a Low Commitment Offer to Reach Prospects at Early Buying-Stages
Your Offer is key in generating leads.  And a Low Commitment Offer generates the highest number or leads.
"Low commitment" means it's easy for your audience and requires little effort on their part to get it — typically just providing some basic contact information.  The easier you can make it for your audience to take advantage of your Offer, the more leads you'll generate.
If you're relying on CONTACT US or REQUEST A DEMO to generate leads, you're missing the majority of your audience. Anything that implies "talk to sales" is High Commitment, and will generate low response.)
So how can you reach your audience at an Early Buying Stage?  Create an Offer that helps them determine what type of solution they need to solve their problem.  Educate them on a new CATEGORY of solution, a new way to solve a problem, or new technology.
Create some useful Content or an evaluation tool as your Offer.
And don't ask for 15 pieces of information on your response form.
For my business-owner client who couldn't find an agency who knew how to solve his Lead Generation problem, a white paper like this might have been helpful:
 "Why Your Website Isn't Generating More Leads"
This type of Offer could have steered him toward the TYPE of solution he needed — a Lead Generation agency. And it may help him identify those companies EARLY in his agency search.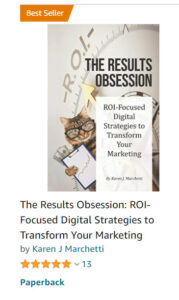 Excerpted from our new BEST-SELLER, "The Results Obsession: ROI-Focused Digital Strategies to Transform Your Marketing" now available on Amazon! If you're considering improving your website, this book will walk you step-by-step through the process.
Learn more about The Results Obsession and see the Table of Contents
The book includes chapters on: accurately diagnosing your opportunities for improvement using Google Analytics, identifying why your customers buy, Lead Generation Strategies, crafting Lead Generation and Offers, planning and editing the best copy of your life in all media, evaluating your website navigation, website design and content, and improving your website copy.
Get Our Latest Blog Posts by Email