Have you diagnosed exactly what's going on with your website SEO — using your analytics?  (Or do you just look for your site on google.com?)
Are you happy with the results of your website's search engine optimization?  It seems few businesses are.
In general, the complaints seem to go in these 3 directions:
"We're not sure how our SEO is doing".
"We're not sure if our SEO is correct."
"We're not sure if any SEO has been done."
Here's How to Diagnose Your Search Engine Optimization with Google Analytics
The only reason to undertake SEO in the first place is to drive organic traffic.  Some simple measures from Google Analytics can show you how your SEO efforts are going:
Is your organic traffic growing each month?
How does your monthly organic traffic this year compare to last year? (Especially if your business is seasonal, it may be useful to compare June 2018 to June 2019 results, etc.)
If your traffic is growing, the next thing to look at is the "quality" of that traffic – are visitors to your site finding what they're looking for.
How has your "bounce rate" changed in the past year?  (Bounce rate is the percentage of all visitors to that page who visited ONLY that one page.  A 100% bounce rate means every visitor to that page never went any further on your site.)  If you have a high bounce rate, that could indicate:
Your content didn't answer your visitors' questions
Your visitor couldn't find what they were looking for
Your content is attracting visitors that are not your real target audience
What about your trends for time on site or average number of pages viewed over the past year?  Low time on site or low average pages viewed (or declining numbers) are other potential indicators of a problem with the content you're delivering (visitors didn't find the answers they were looking for), or it could indicate a navigation problem (visitors couldn't find exactly what they were looking for or what to do next).
If your bounce rate is not that high, but your time on site or average pages viewed are low, that's an indication you are attracting the right visitors – but they're not finding what they need.
Google Search Console for Useful CTR by Keyword
Another diagnosis tool that's free is Google Search Console (formerly Google Webmaster Tools) at  https://search.google.com/search-console/welcome
(You'll need to connect your website to Google Search Console.  If you can access Google Analytics as an Administrator, connect to Search Console by scrolling down to "Other verification methods".  Under "Google Analytics", click "Verify."  Otherwise, have your webmaster give you access.)
In Search Console, select "Performance" in the left column.  Select date range at the top.  Under "Queries" (the default tab), you'll see the keywords for which your site appeared on google.com.
Select the download icon (to the right), and open the file.  For each keyword, you'll see "clicks", "impressions", "CTR" (click-through), and "Position."
You can sort by position to see the keywords for which you tend to appear the highest. But you might also find decent traffic and CTR even for terms with a lower position.
You can also sort by CTR – to see how effective your Page Title and Description for each page might be in getting searchers to click.
Although Google Search Console has its limitations (the numbers are general averages), it does give you a simple (and free) look at your keywords from Google's point-of-view.  If you were hoping to see your pages in a higher position for particular keywords, that may indicate a need to revisit your keyword focus on your individual pages – or add blog posts that focus on those keywords.  If they are very competitive keywords, you might consider using pay-per-click advertising to gain some search engine visibility for those keywords.
Good Page Descriptions and Page Titles are Critical for Driving Organic Traffic
If you see some low CTRs, that could indicate that your Page Descriptions aren't enough to motivate your visitors to click. (If you haven't specified a Page Description, Google pulls content from the page to use for each page's description in its search results, which may or may not be helpful for driving CTR.  Always better to specify your own description.)
If you're using WordPress, you can add the free Yoast SEO plug-in.  This SEO plug-in will put a Page Title ("SEO Title") and Meta Description editing box at the bottom of each page where you edit pages or posts.
Page Title seems to be a very critical element in SEO.  Each of your pages should have a unique Page Title.  (Note "Page Title" should be specified separately from "the name of your page", what you call the page in your navigation, what the page URL is, and what the page headline is.)  Some beliefs that seem to be true about Page Title:
Your most important keyword for that page should appear early or first in the Page Title
Write the Page Title like a headline – because that's what it's used for in Google's organic search results. Don't make it a list of keywords, it should read like a headline.
Don't put the name of your site in Page Title. Many websites, including WordPress sites, tack on the site name at the end of the Page Title needlessly.  Your URL includes your site name – there's no benefit to including it in Page Title.  And including it can dilute the value of the other words in the Page Title (and create Titles that are too long).
Beyond looking at organic traffic, general position, CTR, and your Descriptions and Page Titles, other important elements of SEO include:
Individual page URLs — which should include the most important keyword for each page
In-text links to appropriate pages. If you mention your new CRM software in a blog post, be sure to link to the CRM software page – and put the link on the words "CRM software" or appropriate keywords for that page (rather than "click here").
Use of keywords naturally on the page. Always write your content first for your target audience, including keywords as they would be included in conversation.
You should also review your company listing in the big national databases for inclusion and consistency.  You always want to register your company name in exactly the same way with exactly the same address and phone number across the databases.  If you have multiple locations, be sure to always call each location by a consistent name, like "Response FX San Diego" and "Response FX Los Angeles."  You can get an idea of how consistent your company is represented across the databases by visiting https://moz.com/local/search.
What's your biggest SEO question?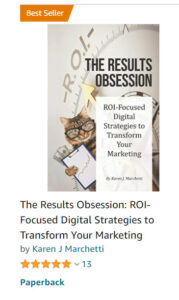 Excerpted from our new BEST SELLER, "The Results Obsession: ROI-Focused Digital Strategies to Transform Your Marketing" now available on Amazon! If you're considering improving your website, this book will walk you step-by-step through the process.
Learn more about The Results Obsession and see the Table of Contents
The book includes chapters on: accurately diagnosing your opportunities for improvement using Google Analytics, identifying why your customers buy, Lead Generation Strategies, crafting Lead Generation and Offers, planning and editing the best copy of your life in all media, evaluating your website navigation, website design and content, and improving your website copy.
Get Our Latest Blog Posts by Email